about me | design philosophy
meet and greet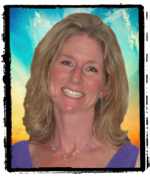 I am April Jack, owner/creative director of 'all 4 design'. Design is my passion, I love to "color outside the lines" and evolve your ideas into visual solutions! 'all 4 design' is a full service creative design studio providing fresh and effective graphic design for print, web and email, brand development, advertising, and marketing services.
It's no coincidence that my favorite number is 4, encompassing the 4 seasons and the 4th month of the year (unanimously the best month)! I graduated from San Diego State University in 1994 with a BA in graphic design, with a marketing minor and have been putting it to clever use ever since.
I visually communicate your message through creativity, showcasing your unique value to fit your needs and effectively grab your target market. Unifying your brand within all collateral and experiences to maintain a recognizable identity to define the personality of your company or product. This takes thought and reason to why I use certain elements, colors, etc. to evoke particular emotional responses, to demand attention and represent you to the world.
My goal is to exceed your design needs from concept to completion, whether you're a small start up or a large established company. But to me it's about more than designing with a critical eye, it's also about building client relationships and meeting every deadline, while I'm always organized, open minded and positive!
Capture your audience and connect through the language of design. Keep your eyes, minds, and hearts open. The creativity of 'all 4 design' can show you the unique power of design and how it can be used to inspire and affect the world around you.